Operation Safer Ground: A Place for Healing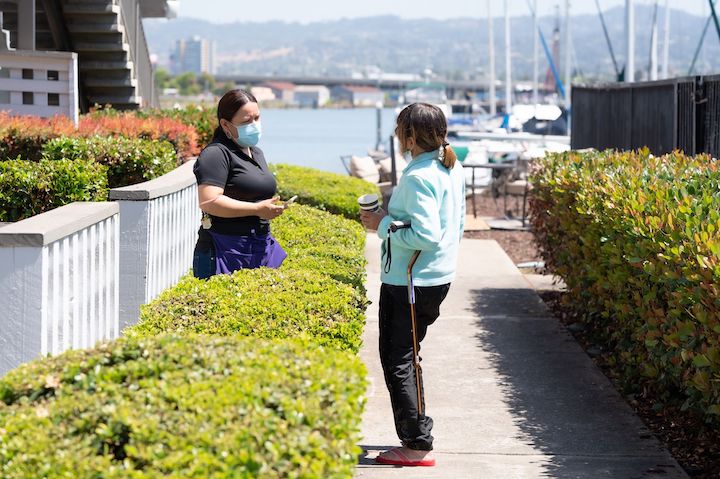 Alameda's Marina Village Inn is a temporary housing site of Operation Safer Ground! In April, Building Futures began operating the program, part of Alameda County's Project Roomkey. Project Roomkey serves those who are homeless and over 65, medically fragile, or otherwise at high risk of contracting COVID-19.
Operation Safer Ground serves women and families who have experienced trauma and homelessness. Some are survivors of domestic violence. Others have chronic health conditions. Many are elders, but families with children make the scene lively. Guests receive safety net services, and are also connected with a wide variety of healthcare, housing, and other social services to help them obtain and maintain housing and stability. Building Futures provides around-the-clock staffing and service coordination, and links guests with the county's Home Stretch program. Today, 50 adults and 24 children call the 52-unit Marina Village Inn home.
Before she came to the Marina Inn, Marie*, 67, lived in her car for two long years. She would visit the public library or the mall to wash up daily. Then came the COVID-19 crisis. Suddenly, public restrooms were non-existent. For the first time, she couldn't meet her basic needs.
Fortunately, Marie was referred to Building Futures. Now she is a guest at the Marina Village Inn.
At the beginning of her stay, Marie experienced a health scare. She needed treatment at the hospital for a blood sugar issue. Unused to being cared for, Marie was untrusting and uncommunicative. Back at the Marina Inn, Building Futures' care coordinator earned Marie's trust—and convinced her to accept help. She got on track with medication; she also began participating in community activities.
A housing first agency since 2007, Building Futures sees Operation Safer Ground as a powerful way to support the county's most vulnerable residents during the pandemic, while addressing Alameda County's housing crisis and health disparities impacting women and children. Marie's progress is a good example. She is on track to being permanently housed. She serves as an informal ambassador for the program, introducing herself to new guests and making all feel welcome.
"I have inner peace, and peace of mind," Marie says. "It's nice to be reminded of the good in humanity."
"We have a unique opportunity here for therapeutic healing with people who have slipped through the cracks," says Dr. Jeffrey Suiter, who directs Building Futures' domestic violence services.
"There is stigma associated with homelessness," Suiter continues. "I hope this program's success will assuage cultural blind spots that equate homelessness with worst-case scenarios."
"The Marina Inn is a truly unique place where people heal and make progress—some for the first time in many years," says Suiter. "It's a healing place."
*Marie's name has been changed to protect her privacy.
---
This article appeared in our 2019-20 Annual Report.