Truly it takes a village to build better futures with families and individuals, where they are safely and supportively housed, free from homelessness and domestic violence. Since the time of our founding, the partnership of neighbors, sponsors, and public and private funders has strengthened Building Futures and our ability to help individuals and families in need. We are grateful for each and every one of our caring supporters.
Foundations
AT&T External Affairs
Bernard E. and Alba Witkin Charitable Foundation
C.D. Spangler Foundation, Inc / National Gypsum
Children's Support League of the East Bay
Clarence B. & Joan F. Coleman Family Foundation
Community Initiatives Regional Response Fund*
Crescent Porter Hale Foundation
East Bay Community Energy*
East Bay Community Foundation – Just Response Fund* and Anonymous Fund
Eden Health District
Evelyn & Walter Haas Jr. Fund
First 5 Alameda*
Heffernan Foundation
Harry & Jeanette Weinberg Foundation*
Illinois Number 3 Foundation
Junior League of the East Bay
Kaiser Permanente Northern California Community Benefits Program – East Bay Area and Greater Southern Alameda Area*
Learning By Giving Foundation
Pinpoint Foundation*
Rippleworks Foundation
Rotary Club of San Leandro
San Francisco Foundation
Sunlight Giving Foundation
TJ Maxx Foundation
United Lutheran Church of Oakland*
United Lutheran Church of Oakland (Giving is Receiving Benevolence Fund)
UPS Foundation
United Way of the Bay Area*
Wayne & Gladys Valley Foundation*
Walter & Elise Haas Sr. Fund
Wells Fargo
West Davis & Bergard Foundation*
William G. Gilmore Foundation
The Women's Foundation
Women's Foundation California Relief and Resilience Fund*
* = Funding designated for COVID-19 activities in 2020.
Support received between 1/1/2020 and 12/31/2021.
Government
Alameda County Social Services

Alameda County Housing and Community Development

Alameda County Health Care Services Agency

Alameda County District Attorney's Office

Alameda Housing Authority

California Office of Emergency Services

City of Alameda

City of Oakland

City of San Leandro

FEMA – National Emergency Food & Shelter Program

U.S. Department of Housing and Urban Development
Support received between 1/1/2020 and 6/30/2021. 
Corporations, Organizations and Faith Groups
ABB Optical Group
Alain McLaughlin Photography
Alameda County Social Services Agency
Alameda Family Collective
Alameda Homeless Network
Alpha Delta Kappa
America's Local Charities Donor Choice
AT&T Employee Group
BB's Cooks
Berkeley Buddhist Temple
Bethel Community Presbyterian Church
Black Sheep Motorcycle Club
Brookins AME
Business Women's Community (BWC)
Carole Schultze and Friends Annual Yard Sales
Castro Valley Lions Breakfast Club
Castro Valley Women's Club
Christ Episcopal Church
Cisco Systems
Community Impact Lab
Craneworks, Inc.
Cucina di Cannelora, Inc
Dominican Sisters of Oakford
Eden Housing Inc.
Eden Realty
Elic Suazo, Realtor
Envirocom Communications Strategies, LLC
Exelixis
First Congregational Church of Alameda
First Presbyterian Church
First United Methodist Church (FUMC)
Friends of Susan McLaughlin
Girl Scouts of Northern California
Inner Wheel Club of San Leandro
Kaiser Permanente Community Giving
Kiwanis Club of Alameda
Kiwanis Club of San Leandro Foundation
Latter Day Saints
Live Oak Unitarian Fellowship
Marcus & Milllichap
Meredith Mehlberg International LLC
Nosso Lar
Orange Silicon Valley
Poppy Bank
Robert Half
Rotary Club of Alameda
Rotary Club of San Leandro
Ryan LLC
San Leandro Church of Christ
San Leandro Garden Club
San Leandro Historical Society
San Leandro Improvement Association
St. Felicitas Church
St. Gregorious Greek Orthodox Church
St. Joseph Basilica
Talbot Team
Teamsters Local Union No. 853
Temple Israel
Tenderloin Neighborhood Development Corporation
The Goodie Bag Lady and friends
The Lovewell Team
Trinity Lutheran Church
Twin Towers United Methodist Church
University of California, Office of the President
Upstander's Club
Zocalo Coffee House
Support received between 1/1/2020 and 6/30/2021.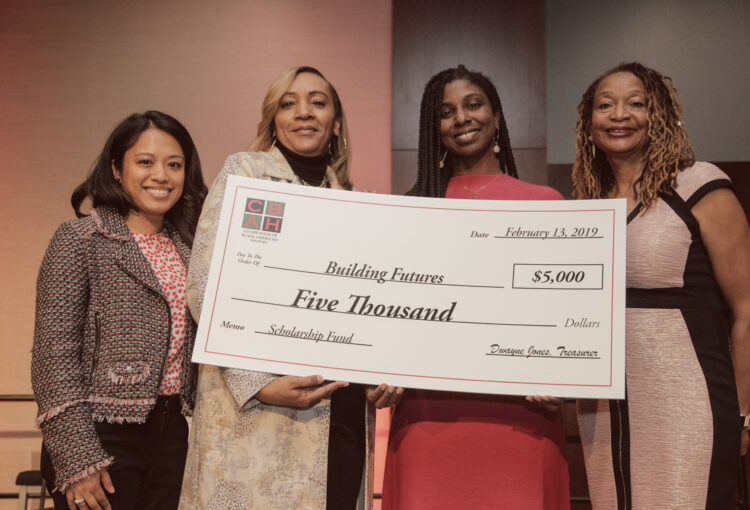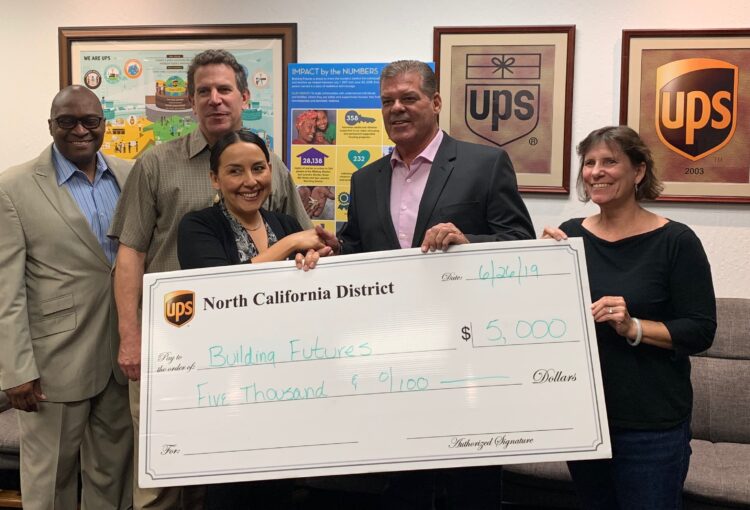 2022 Jazz It Up! Sponsors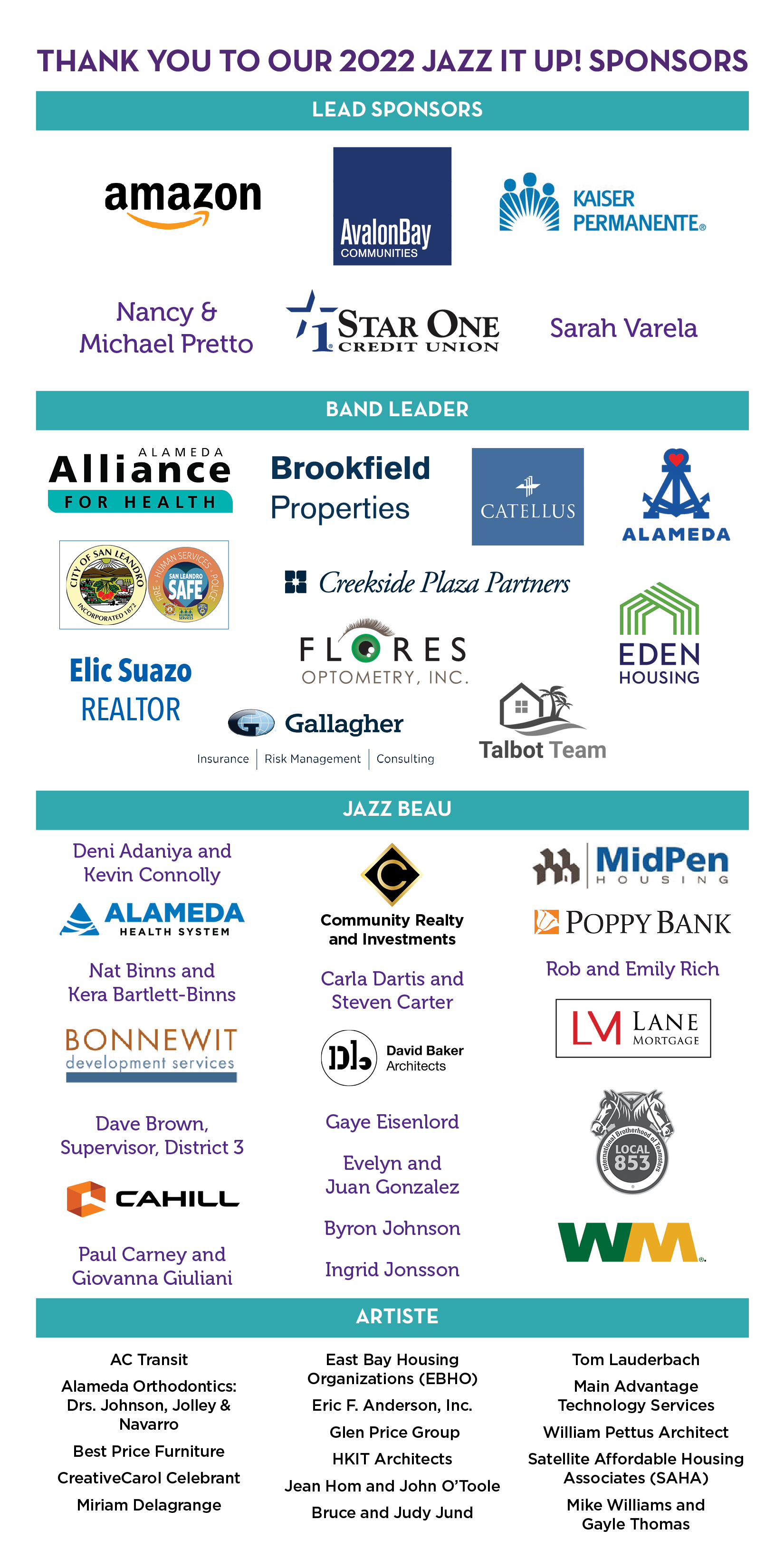 Thanks to the following groups and businesses for helping make the holidays brighter for those we serve!
2021 Holiday Donors
Alameda Alliance for Health
Alameda County Firefighters Toy Program
All Good Living Foundation
Amador Valley Quilters
Assumption Church SL
Bananas
Berkeley Buddhist Temple Youth Group
Charles Schwab
Church of Latter-Day Saints
City of Alameda Staff
Community Realty & Investments
East Bay Moms Demand Action
First Congregational Church of Alameda
First United Methodist Church
Ghirardelli Staff
Girl Scout Troop #32971
Girl Scout Troop #33428
Kaiser Staff
Kiwanis SL
Mary Kay – Kelly Clardy
Mary Kay – Marsha Amaral
Montclair Piedmont Rotary
Old Navy (Bayfair)
Optimist Club
Pack 556
Pallen's Martial Arts
Rotary Alameda
Rotary SL
Starbucks
You can see more event sponsors on our past supporters page.