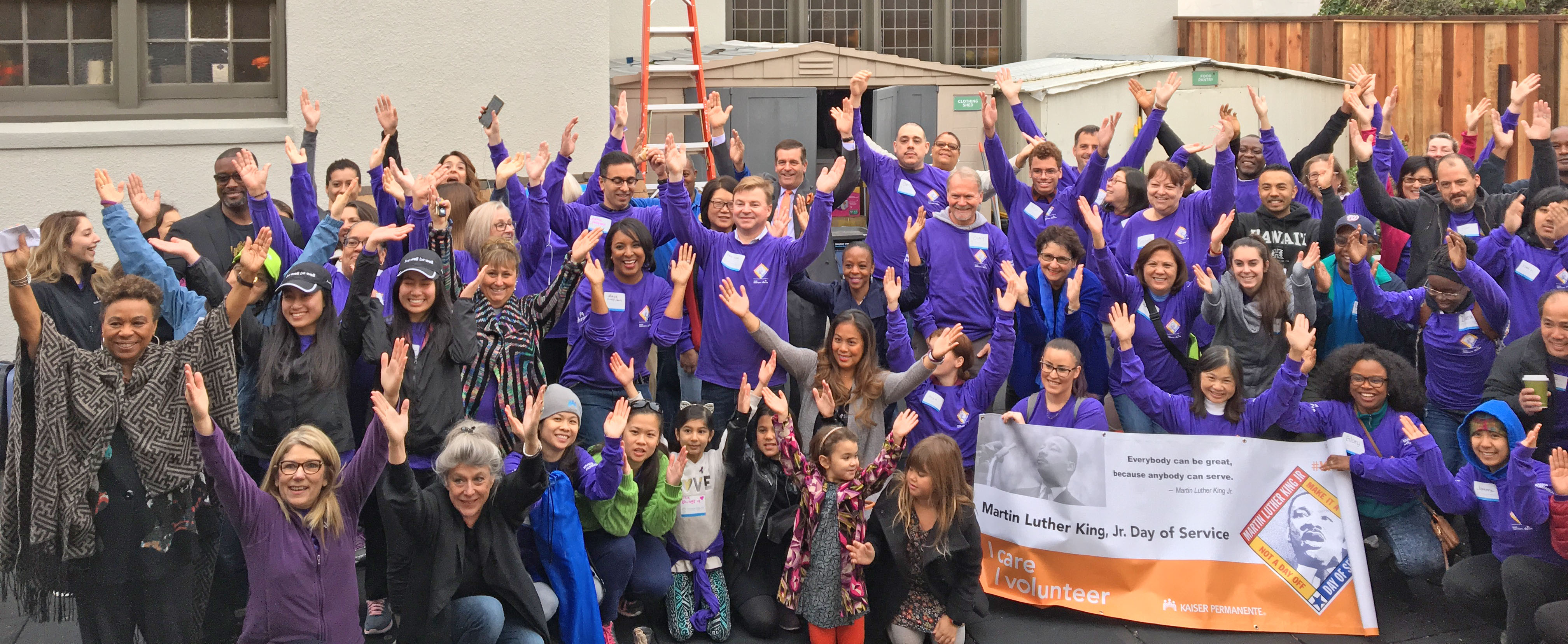 The generosity and talent of community volunteers provide Building Futures' clients and staff with meals, building maintenance, photography services, site cleanup days, and much more. Community volunteers enable Building Futures to provide a range and depth of services that would otherwise be impossible.
We welcome individual volunteers and groups! If you are interested in donating your time as a volunteer, take a look at our volunteering opportunities below, then contact us at  [email protected] or (510) 357-0205 ext 206.
From there—whether you represent an individual or group—we can discuss Building Futures' current needs and determine a fit. Our needs change, so be sure you speak with someone to confirm that there is a volunteer need before you download and complete our volunteer packet.
We appreciate your support and look forward to meeting you soon!
Become a Dinner Donor for Our Shelters!
Building Futures is always seeking Dinner Donors. Our shelters rely almost exclusively on caring community members like you to provide evening meals for shelter residents. This not only eases Building Futures' budget, it's also a great way for the community to show shelter residents that they care. Dinner cooks cook at their own home and purchase, prepare, and deliver a balanced meal for 25 women and children and deliver it by 5:00 p.m. on their designated day to the San Leandro Shelter or the Alameda Midway Shelter. Why not involve your family, co-workers, club, or church group in donating a meal to one of Building Futures' shelters?
Administrative Support at Building Futures' Main Office
A few times a year, we enlist the services of volunteers to assist with bulk mailings, filing documents, and to sort and store donated items.
Crisis Line Counselor
If you are a certified Domestic Violence Counselor wishing to volunteer at Sister Me Home Safe House, please contact us to set up an appointment. For more information on Building Futures' 40-hour Domestic Violence Counselor Training, visit our domestic violence page.
Children's Program
At all of Building Futures' residential sites, young residents (ages 3 to about 14) are invited to participate in a structured program of activities. The Children's Program takes place in the evening while mothers attend support and life skills groups. Activities include arts and crafts, gardening, and cooking, and homework help. Volunteers work closely with children and staff and to ensure a fun and safe learning environment. Children's Program volunteers should be sensitive to children's needs; able to interact with both women and children in a warm, genuine, responsible and respectful manner; open to and affirming of different cultural, class, ethnic, and religious and committed to volunteering once a week for at least three months. Volunteers must be at least 18 years old or older and committed to volunteer for at least three months. Due to the importance of understanding issues faced by survivors of domestic violence, those interested in the Sister Me Home Children's Program must be certified as a Certified Domestic Violence Counselor and commit to at least two evenings per week for five months.
Seasonal Opportunities
Participating in a seasonal item drive is a wonderful opportunity for groups to make a positive impact on the lives of those served by Building Futures. We need volunteers throughout the year to gather materials and items to make holidays and special events fun and meaningful for the children and families we serve. Please email us if you would like to head an item drive!
March: Easter baskets

May: Mother's Day gift baskets. Fill them with bath products, chocolates, gift cards—anything to make moms feel special!

June: Father's Day gifts. Celebrate the fathers, grandfathers, uncles and mentors whose love and support keep families strong, with a gift card, new tie or more.

July: Back to School drive. Collect backpacks and school supplies for students heading back to school.

July: Walk or run in the annual 4th of July Mayor's R.A.C.E. in Alameda, benefiting the Midway Shelter. Open to all ages and fitness levels!

October: Halloween costumes for boys and girls ages 0-17.

November: Create Thanksgiving dinner baskets or collect gift cards for Safeway, Whole Foods, Nob Hill Market (Alameda)

December: Take part in the annual Midway 5k Run/Walk in Alameda, benefiting the Midway Shelter. Open to all ages and fitness levels!

December: Kwanzaa. Donate a special meal or a project for the kids.

December: Donate toys or clothes for the children or gift cards and clothes for teens and adults.

December: Organize a gift-drive with your company, club, friends or community group. This is a very large drive, and we need all the "people power" we can get!
Other One-Time Projects
Do you have a special skill, hobby, or passion you would like to share with our clients? We want to hear from you! Volunteers in the past have organized gardening projects with the children in the shelters, offered yoga lessons for healing, theater workshops, and more. We could benefit from the services of teens/adults who enjoy graphic design. Get in touch to talk about how you can share your gift with Building Futures' clients.