Turning dollar bills into a very good cause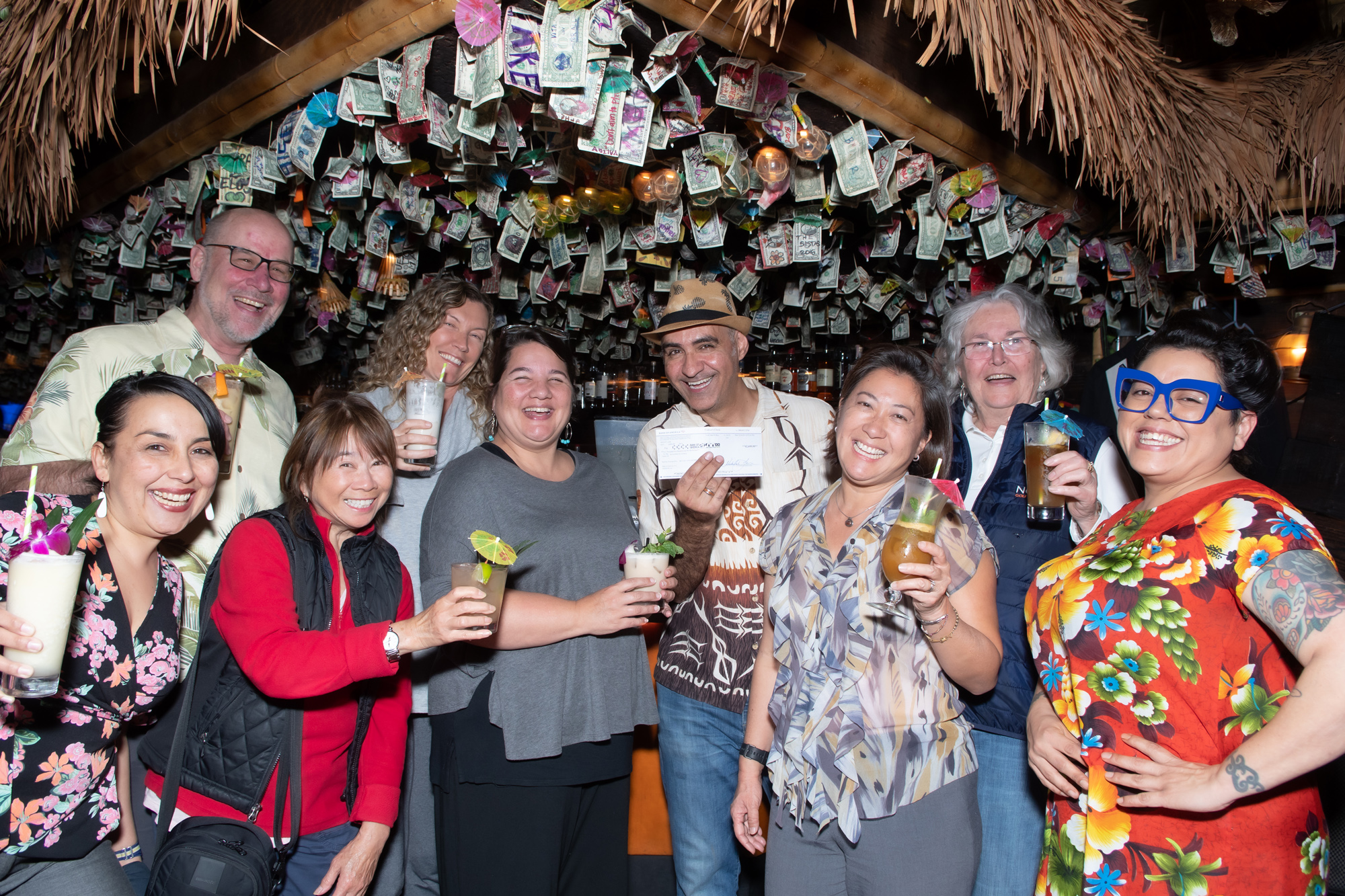 PRESS RELEASE
FOR IMMEDIATE RELEASE
February 7, 2020
Last night, Building Futures was presented with a check for $2,600 from Forbidden Island owner Michael Thanos. But this was not your typical donation. Since 2006, tiki enthusiasts have taken to pinning dollar bills to the ceiling, a tradition that originated during World War II, when sailors would leave a dollar at their local bar before shipping out to the Pacific – a promise that they would be back to buy a drink. And so began a decade-long tradition that started taking over the entire establishment. Having run out of space on the ceiling, patrons even started pinning money to the walls and furniture.
When Forbidden Island owner Michael Thanos decided it was time to take down all the loot, he and his staff found themselves with over $10,000 in cash. They decided to donate almost $9,000 of it to local nonprofit organizations and return the remaining $1,400 to the ceiling, encouraging guests to keep the tradition going.
So while some folks might be disappointed not to find the multiple layers of dollar bills that had become Forbidden Island's signature, last night Building Futures staff and Board Members raised their amazing rum cocktails to celebrate the recent sweep.
"We are very grateful that the Alameda community keeps coming out to support us – and we receive a lot of community support from individuals, businesses, and faith communities, this is definitely a first," says Executive Director Liz Varela, a driven community leader and Bay Area native who has been part of the Building Futures family for over twenty five years. "And to hear that we were the staff's first charity choice was the cherry on top! Or should I say, the pineapple on the Mai Tai!"
Founded in 1986, spurred by the fervent belief that homeless women and children deserve safe overnight refuge, Building Futures has grown to become a leader when it comes to tackling family homelessness throughout Alameda County. Formerly known as Building Futures with Women and Children, the organization now also serves individuals of all genders though its homeless outreach program, five emergency shelters including Alameda's Midway Shelter for homeless women and children, Alameda Warming Shelter, Bessie Coleman Court, domestic violence education and advocacy work, and housing services, in in the city of Alameda.
"It's about love, and it's about saving lives," says Doris Freeman, Coordinator of Building Futures' Alameda Warming Shelter, open on nights when extreme cold weather or rain is forecast. She closes her eyes to sip on her tropical drink, allowing for the briefest of moments to mix business with pleasure.
#####
Find out more about the work of Building Futures by visiting their new website, www.bfwc.org to check out our range of services, client success stories, late-breaking news, and ways to help. On May 15, 2020, Building Futures invites you to their annual fundraising gala, Jazz It Up! at 21st Amendment Brewery in San Leandro, an evening of live music, craft beer, wine and food benefiting the organization's homeless, domestic violence and housing services in Alameda County. Tickets are available at www.bfwc.org/2020jazzitup.
Forbidden Island is located at 1304 Lincoln Ave. in Alameda, CA