2020 Jazz It Up!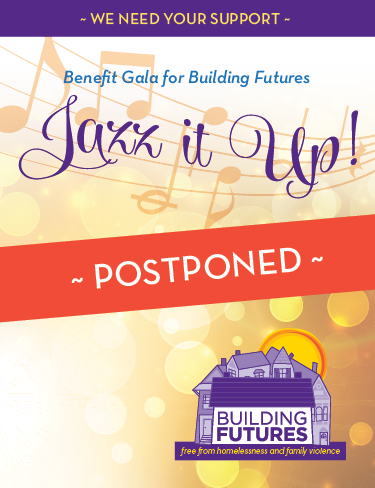 Finished Time
May 15, 2020
Content
Building Futures Gala—Jazz It Up!
Each year, Building Futures and our invaluable supporters look forward to raising a glass together and enjoying live music and good food while raising much-needed funds to support life-changing services through our  Jazz It Up! event. Because we value the health of our supporters like you during this Coronavirus crisis, Building Futures' board is brainstorming alternative ways to observe  Jazz it Up! originally set for May 15 at 21st Amendment Brewery in San Leandro.
While we work on a creative solution, we really do need community support and your donations more than ever as we help the most vulnerable families and adults through this crisis. While we are cognizant of financial instability during these turbulent times,  please consider making a gift today.  We'll keep you abreast of our plans for  Jazz it Up! 2020 as plans unfold.
Questions? Contact Ana at [email protected] or at 510-924-3090
100% of the net proceeds from this fundraising event will support our homeless, domestic violence and housing services in Alameda County. To see how we do our work, check out our Impact by the Numbers poster.
Special thanks to our lead sponsors, Michael & Nancy Pretto, Creekside Plaza Partners, Community Realty and Investments, the City of San Leandro and the City of Alameda at the Band Leader level and above!

We are grateful to our other sponsors at the Jazz Beau and Artiste levels include ACI-Alameda County Industries, Bonnewit Development, East Bay Community Foundation, Face Reality Acne Clinic, Flores Optometry Inc., Nat and Kera Binns, Evelyn and Juan Gonzalez, Gaye Eisenlord, Rob & Emily Rich, Waste Management of Alameda County, Inc., Bay Alarm, Bruce and Judy Jund, Carla Dartis & Steven Carter, Gayle Thomas & Mike Williams, Main Advantage Technology Services, Supervisor Wilma Chan, Teamsters Local Union #853, and Tom Lauderbach!
Sponsorship Opportunities