The Family Front Door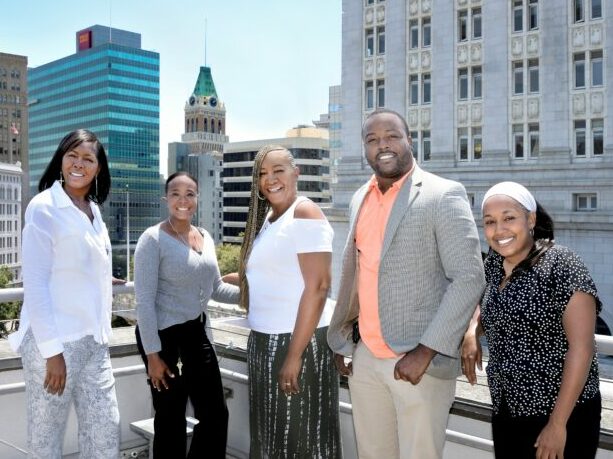 Families sleeping in their cars and on the streets have a new pathway back into housing. Two years ago, Building Futures helped usher in an innovative, redesigned, coordinated system that provides a onestop experience for homeless families to access a vast range of rehousing services from multiple programs and agencies. Even families with a housing crisis but were not yet homeless received housing counseling and referrals to appropriate services. The results were immediately beneficial to families.
It gives Sabrina Thomas (Building Futures' Director of Emergency Services) and her staff, pictured right, great pride to have envisioned a faster and more effective helping system. They worked collaboratively with the City of Oakland and East Oakland Community Project to weave decades-old independent programs into a unified system prioritizing the most vulnerable families, ended the trauma of homelessness by rehousing 38 families thus far, and counseled hundreds and hundreds of families about their housing crisis. "It is our job to know by name every family that is living in a car, park, or an encampment. And we do! We can check in on you, talk about safe housing for tonight, enroll you, and link you to help," she says.
Before the Family Front Door, families might call the County's 211 helpline and from there call every shelter in the county asking for help. "If there was no shelter space–that was it. After hours of phone calls, the family would end up with a bunch of 'nos' and no solution for that night," Thomas says. "The new model begins with a conversation with the family about their housing situation and what led up to it to help them explore a whole spectrum of options and resources, not just shelter. The purpose is that every family would have a safe indoor place to stay tonight and receive some level of service.
The new system is designed to aggressively reduce homelessness: to match those with the greatest needs with intensive supports, to reduce the amount of time families remain on the streets or in shelter, and to explore every potential familial, community, or public resource that could help end a family's homelessness.
Executive Director Liz Varela adds, "With this epic housing crisis in Alameda County and in the Bay Area, BFWC was excited to try a new approach to today's crisis while we advocate voraciously for more housing and longer-term solutions. We have to solve this housing crisis together, and soon!"
The Family Front Door Program served as a pilot, helping guide Alameda County as it retooled homeless services. It is Alameda County's one-stop service hub for families experiencing homelessness in Oakland, Berkeley, Albany, Emeryville, and Piedmont.
---
This article first appeared in our 2016-17 Annual Report.